For years I have had a love/hate relationship with technology. Initially I used the computer as a replacement for the typewriter to  print documents I could use in my job.  Hooray!- Throw away the Tippex!!! And print off multiple copies.
Then I moved on to the internet  and in the early days used to "Ask Jeeves" anything I needed to know, and that's where my frustration began. If you didn't have the exact correct spelling or you asked the question in a  way that Jeeves didn't understand you  had to accept NO responses, although you knew there was an answer out there somewhere. Thankfully Google now asks politely   Did you mean……..?   So much kinder to an old'un like me!!
I knew I had to embrace the new world of technology when a friend who lived in a remote part of Siberia wrote in her letter to me  " Do you use email? It would save our letters getting lost or delayed?"    Email???  What was that?    Finally, having been tutored by my children and put my writing pad back in the drawer, I had to admit she was right AND it saved me money!!
Today I love my laptop and have mastered most of the problems thrown at me when I changed from a Dell to an Apple.  That was a bad time!!!!! I am fine whilst things go how I think they should, but if a problem arises I am thrown, and unlike the younger generation am not prepared to press keys to try and get out of the hole I am in for fear of making it deeper and deeper.  I generally have to phone one of the children ( or grandchildren) and am often told "Just turn it off and back on again."  Oh, if only all life's problems were that simple!!!!
Over the past few weeks I have become aware of how  amazing this technology has become, and how much a part of my life without even realizing it.  I may not be able to see friends but have emailed them and even face timed family, to feel part of the wider world again.  They have sent me cute videos to make me smile. I have managed to get one online food shop  sorted. OK- I did end up with a Click and Collect when I thought I'd paid for a delivery, but you have to be grateful for small mercies!!!   I have  paid bills, renewed my car tax and insurance, and much as I don't approve of the company's attitude to paying tax, have to admit  "Thank Goodness for Amazon".  When my daughter had to hurriedly return with her children to the US before Mr Trump prevented her re-entering the country, she mistakenly took my thermometer with her.  (Grandson had been a bit feverish and needed checking one night.)  At a time when there seemed no thermometer left on the planet  Mr Bezos offered me a lifeline and delivered. He has sorted birthday gifts,   antibacterial gel, essential items of a more personal nature, kindle books and chocolate!!!!!!!!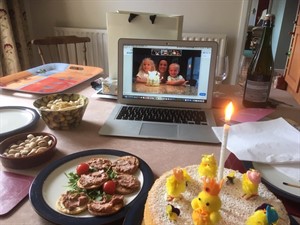 Having enjoyed the singing group and peer support group from Alzheimer's & Dementia Support Services courtesy of Zoom, where a whole group of us can interact and enjoy conversations to break the monotony of self isolation,  I hosted a Zoom birthday party last weekend.  At least I tried, but once again the gremlins were in evidence and  my invitations were not recognized so my son-in law had to re-send them from his company's account. Aaaaarrghhh!!!! But finally, I Zoomed with the family in Texas and with the Hampshire crew. Our daughters both cooked cakes and let the children decorate- lots of sprinkles and even a cow and a horse on Emma's!!!   Mine was more the Easter chick theme, mainly because I had some in the drawer from last year.  We all had party nibbles and then lit the candles and the children and I blew them out together.  It was the best we could do and quite fun, especially the Frozen karaoke that followed.  Even Sarah ( 16 months) now knows the "Let it go" arm flinging bit!!!! Arlo was delighted with the party, given that it was Easter Sunday 10am in the States and having eaten a lot of chocolate already from the egg hunt , he was allowed to eat cake as well for breakfast!!!! Without this new bit of technology my birthday would have been a sadder time and it was a celebration like no other before!!
Certainly life has been different during lockdown, and may never be quite the same for most of us ever again.  We have learned what is important  in our lives  and  how the assistance of friends, neighbours and Alzheimer's & Dementia Support Services can help the days seem brighter. Oh, yes! And how technology can help too!
Kay
If you would like information about the virtual support we are offering please give us a call on 01474 533990 or email info@alz-dem.org