Singing Back The Memories
Regular music and singing has benefits for brain function and promotes feelings of wellbeing and confidence. Singing is a wonderful way to combine memory skills, breathing control, exercise and having fun. Even if we have problems with day to day memory we can often remember the words to songs long after we have forgotten other things. Songs evoke memories: we all have favourite songs that remind us of things that have happened in the past. Our singing groups can help tap into these memories.
Singing is an excellent breathing exercise and each session will begin with warm-up exercises to get people physically ready to take part, a lot of the songs have been adapted to put 'actions to music' which increases exercise in a fun way.
Singing helps with word skills. People may have difficulties articulating words in general conversation but find that they 'come out right' when sung. Even non-singers, or people with non-verbal communication, can join in. Percussion instruments are provided so that no one is left out. People look forward to meeting the friends that they have made at our singing group. It's a real social event.
The Singing Back The Memories group takes place in the following areas:
Northfleet
Dartford
Swanley
Sheppey
Faversham
Sittingbourne
Please contact us on 01474 533990 or email info@alz-dem.org for more information or to book a place.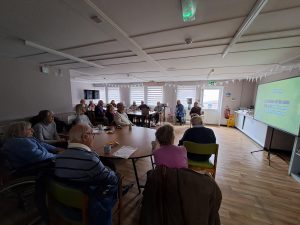 "Really good group, given me confidence, very well run" Margaret, person with dementia
"A stimulating afternoon, lovely people" Martin & Eileen, person with dementia and carer
"Been coming quite a while, I love the group" Karen, person with dementia