On Sunday 27th November 2022, we held a festive day out for the people we support. We went to Rochester Christmas Market followed by some fun activities and entertainment.
We started the day with our coach pickup at 10am from Cygnets, where everyone was ready and raring to go. Much of the journey was filled with a good singsong that go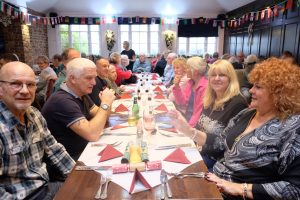 t us all into the Christmas spirit for the day.
Once we had arrived in Rochester, we had some free time to explore the markets and do shopping. There was the opportunity for people to explore independently, and those who needed more support were accompanied by a member of staff.
After all the Christmas shopping and presents were bought, we met at Ye Arrow to enjoy a nice festive filled Christmas lunch to feed our appetites.
We then went to the Baptis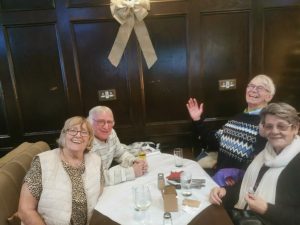 t Church for entertainment, where we were entertained by local youth musical group Razzmatazz and another local group, which was followed by a festive themed afternoon tea.
Finally, we returned to Cygnets for 5.45pm and a good time was had by all.
Here is a lovely testimonial from Roger Barton who is a carer:
"Those who were lucky enough to walk around the quaint shops in Rochester and the festive market probably thought like me that 'it feels a lot like Christmas'. Later in the day with so many up and dancing in the Baptist Church Hall (even me in my far from relaxed and wooden style), that the spirit of Christmas had truly arrived.  Singing 'well I wish it could be Christmas everyday' I thought perhaps not, but we should all strive everyday to bring goodwill just as I find at all the ADSS events.
By then, I was so appreciative of the phenomenal amount of work that all the staff and volunteers had put in to make the day possible and then the effort and hard work, on the day, to make it such a success. At least they could see how worthwhile it all was. I also though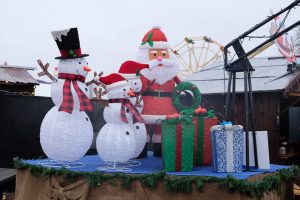 t what better advert to show funders how well grant money is spent. If in doubt they should ask the children who sung for us and could also see the benefit of their efforts. We may be mainly elderly and many with disabilities but the ability to enjoy a good quality of life remains, particularly with top quality support.
It is not possible to measure the financial savings to social services but helping carers to continue their valuable contribution shows that wise financial investment saves money in even the short term."
We will be planning similar trips in the New Year, so be sure to keep your eyes peeled for details in the coming weeks.