At ADSS we are passionate about supporting people with dementia to have fun and do the things most of us take for granted. A day trip to the beach can seem simple but when you are faced with memory problems and the other challenges dementia brings, it can all too often mean it's too much for those with dementia and their families to cope with. That is where we come in.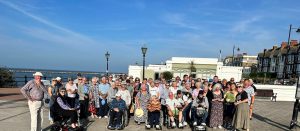 On Sunday 3rd September, we took 71 people we support who live with dementia and their carers on a day trip to Herne Bay. We arrived around 12:30 pm, the weather was delightful. We kicked of the day with a quintessential seaside meal of fish and chips at Captain Jack's, which was completed with beverages and a lovely ice cream dessert.
Following on from the hearty lunch, the group split off into smaller clusters to explore Herne Bay. Some chose to take leisurely strolls along the scenic promenade, pausing to enjoy the sunshine on the inviting benches, and soaking in the breathtaking sea views.
Others ventured along the pier and indulged in ice cream, coffee or even a beer. For those seeking adventure, there was the thrill of crab-catching, while others tested their skills at the shooting range or tried their luck at tin can alley, hoping to win exciting prizes.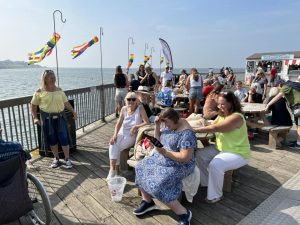 We were entertained by a singer a lot of our service users and their partners were up singing and dancing. Onlookers stopped and joined in on the fun. It was a lovely day made even better by the sun being out.
In summary, it was a day filled with smiles and laughter, where everyone had a wonderful time. One couple even shared their feedback, expressing their enjoyment of the day and the opportunity it provided for socialising with others.
If you would like to attend our day trips, please contact us on 01474 533990 or email us on info@alz-dem.org. Or if you would like to sponsor our day trips like this, please feel free to donate here.