On Saturday, May 18, 2024, one of our dedicated managers, Emily Forster, will be embarking on the hike up Snowdon. In a heartwarming ef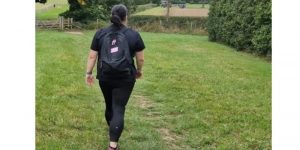 fort to raise awareness and vital funds for those affected by dementia within Kent, she's chosen to take on this journey.
Given that this will be a significant test of my own strength and determination, I've sought a source of motivation. This is why I've chosen to raise funds for Alzheimer's and Dementia Support Services (ADSS), an organization that is not only my place of work but holds a special place in my heart.
The knowledge that the funds I raise will directly contribute to supporting people living with dementia and their dedicated caregivers will be the driving force that keeps me moving forward. So, I earnestly invite you to give what you can and join me on this journey. As I make my way up that mountain, know that you'll be in my thoughts, your kindness, support, and generosity fueling my determination for a cause that's profoundly significant to me.
Thank you for being a part of this meaningful endeavor.
To contribute to her inspiring endeavor, please visit the following link: https://bit.ly/46PdpkT
Please note: By leaving a message of  support in the 'Additional Note' section of the donation form, you are agreeing to your first name, initial of last name and message being shared on this page.