Kindred Spirits meet as a group every other month at the Three Daws for a meal and a get together.  It just so happened that the monthly meeting there fell in December and as Denise said……. "Why not make it a Christmas party and a meal!"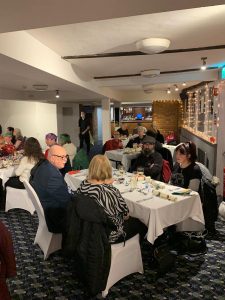 The pub already had a Christmas meal menu which we sent out to all the members of the group, to decide what they would like to eat, and then we ……(I use the royal "we" as all I did was send out the menu via email, Denise did all the rest, collating all the replies and getting the orders in to the pub and organising the karaoke).
Danny from the pub did us all proud and had all the tables laid out with crackers and party poppers, each table to stay within the covid protocols were evenly spread out with 4 people to each table but we were still able to have lots of banter between tables.
After the meal it was Karaoke time, everyone had a go, even me, but it was difficult to sing "Baby its cold outside" with Sarah Taylor as she was laughing so much at my voice ….rude!
I then got caught for a duet of Fairy-tale of New York …. where I did with my best Shane MacGowen impression….. well, it made me laugh.
I am under threat to behave myself or videos of my attempts at singing will be put out on general release.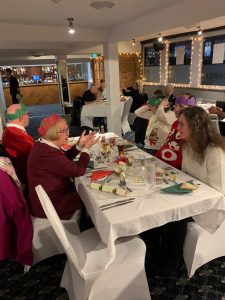 Those that were not singing danced, ably led by Denise (and yes she even sang a song too).  It really was a fun evening, and it was good to see everyone joining in and making it a great night and we had lots of positive feedback like the email quoted below
"Just wanted to say a huge thank you for such a lovely evening last Tuesday. It was so nice to meet the other clients and staff, watching everyone relax and unwind was a joy. With so many restrictions currently and Covid disrupting everyday life it was refreshing to have an evening of normality."
The success of the evening is all due to Denise and her organisational skills, Danny and his staff at the Three Daws for all they did for us, and Sean who provided the Karaoke and then waived his fee and donated it back to ADSS, he said that he had really enjoyed himself too.
Tom Hawkwood
Dementia Support Coordinator