On Friday 25th August, I will be taking part in a Skydive and decided to use this opportunity to raise awareness and much needed funds for those who have been affected by dementia. This is a cause that is close to me, as my Grandad has been affected by dementia.
I have chosen to support ADSS (Alzheimer's & Dementia Support Services) a local charity who have been supporting people affected by dementia for over 30 years.  ADSS provides those living with dementia the support, guidance, knowledge, and care they need to live their chosen life, as well as supporting their family carers.
I would really appreciate it, if you are able to support me, as much as you can, in raising funds or awareness for the vital work that ADSS does.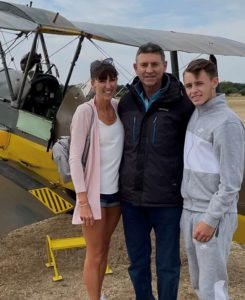 25/08/23 – Have fun! Great charity to be raising money for. – Michelle C
21/08/23 – Super proud of you George. Love mum x
17/08/23 – Good luck George 👍 – Chantal B
Please note: By leaving a message of  support in the 'Additional Note' section of the donation form, you are agreeing to your first name, initial of last name and message being shared on this page.